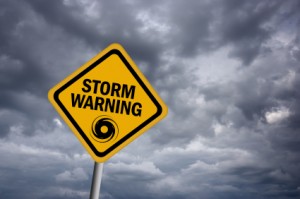 As the first predicted hurricane of the season approaches this week, South Florida has started going into a frenzy in preparation for Hurricane Matthew. Stores can barely keep up with water and canned food sales and hurricane shutters are beginning to go up. As unpredictable as bad weather can be this time of year, it is key to have a game plan and keep our stress level normal as we try to carry on with our everyday activities. The key to remaining hurricane ready is all about maintaining order.
Stay up to date. Staying in the know wont be hard with hurricane Matthew. It seems every news station and radio broadcast has not only the latest update on Matthew's progress through the Caribbean, but also their own opinions on whether this weather will even make it up our way. Because of the unpredictability of the weather, many Floridians remain skeptical whether or not we'll actually get hit. Even if the hurricane doesn't make it here, its still important to have the latest news and stay prepared
Stock up. Publix is running out of cases of water as locals rush to the store to stock up on food and drinks for their families should we all be stuck inside a few days. The key to getting stocked up is to know where to go. The bigger the store, the better chance of getting everything you need. Many people choose Costco or BJ's for this reason. They carry cases of water, have eco friendly water refill stations, and for the more anxious residents, plenty of wine in their warehouses. Most hurricanes don't last more than a few days but it is important to have enough food to feed everyone in the house for several days. Canned items are a good place to start but in case of a power outage, sandwich supplies are an essential. A few loaves of bread and some PB&J can feed a family of four should the electricity be out for several hours. More importantly, when stocking up always consider that refrigerated items may go bad if the power goes out so buying a cooler for your essentials would be a good idea.
Back up Planning. Most counties in Florida have an evacuation plan and a place where people can go should flooding and damage occur during this hurricane. When thinking about the comfort of your family during this messy weather, perhaps a plan B is in order. Florida is accustomed to having hurricanes this time of year each year and because of that, notifications are generally sent out ahead of time when weather starts to get risky. Often times this gives people the opportunity to leave town before it gets bad. My personal favorite for places to leave town during a hurricane is the west coast of Florida, specifically Naples. There are many towns just an hour or two drive if you can get a good head start with affordable places to stay and plenty to do. In the case of Matthew, the direction and intensity of the hurricane might prevent any fun on the west coast of Florida this upcoming weekend so best advice, stick around and ride this one out.
Relax. As stated before, Florida is more than experienced when it comes to hurricanes. Majority of housing requires hurricane insurance so if flooding and damage occur, insurance should cover it. Make sure your outdoor furniture is inside and your windows are shut. If you have a garage, park inside as many cars could be damaged from flooding. On the bright side, for many Floridians, hurricanes are a beautiful excuse for a "staycation". Charge up your electronics, stock up on snacks and dvd's and prepare for a few days off of work and school should this weather get as bad as the predicted category three. Even with the power out, hurricane parties are a popular go to in Palm Beach County. If you don't have the opportunity to leave the area, might as well stay in, catch up on your leisure activities, and let the hurricane run its course. South Florida comes with the disclaimer of violent weather during the autumn months so there is no use worrying about a wind pattern we have no control over. Sit back, relax, and hurricane Matthew will pass before you know it.